As many of you know by now, I am not a fan of conventional kibble. Not only is it not a well-balanced, nutritious meal, but the links to numerous health problems and the fact that it is processed with high heat and likely carcinogenic was more than enough for me to know I had to dump it.
According to Dogs Naturally magazine, a study of 522 dogs by Lippert and Sapy (2003) showed that dogs who were fed high-quality, freshly made, real food diets had an average life expectancy of 13.1 years versus just 10.4 years for dogs fed commercially processed pet food! That's an extra THREE years, hopefully, with your favorite fur baby. Not to mention, once you get your pets off kibble or low-quality food, you will be blown away at how much healthier they become. Any skin issues or allergies will often clear up and their coat becomes so shiny and strong!
For more reasons on why we dumped kibble, yes, even the better brands like Acana or Orijin, I highly suggest renting Pet Fooled for FREE on Amazon ASAP.
So now that we know kibble has to go, what do you feed your dog instead? Well, I know that it's not always easy, financially, to eliminate kibble and make your food from home the way we do, but if your priority is your dog's health, I always want to share some better options for you guys to choose from and The Farmer's Dog is one, plus, you can even try them out for 50% OFF right now which is major so let's go through some pros & cons on this option for your pet to see if it might be the one for you!
Farmer's Dog company offers fresh dog food formulated by board-certified Veterinarian Nutritionists and delivered right to your door. For us, this was our #1 choice, here is why!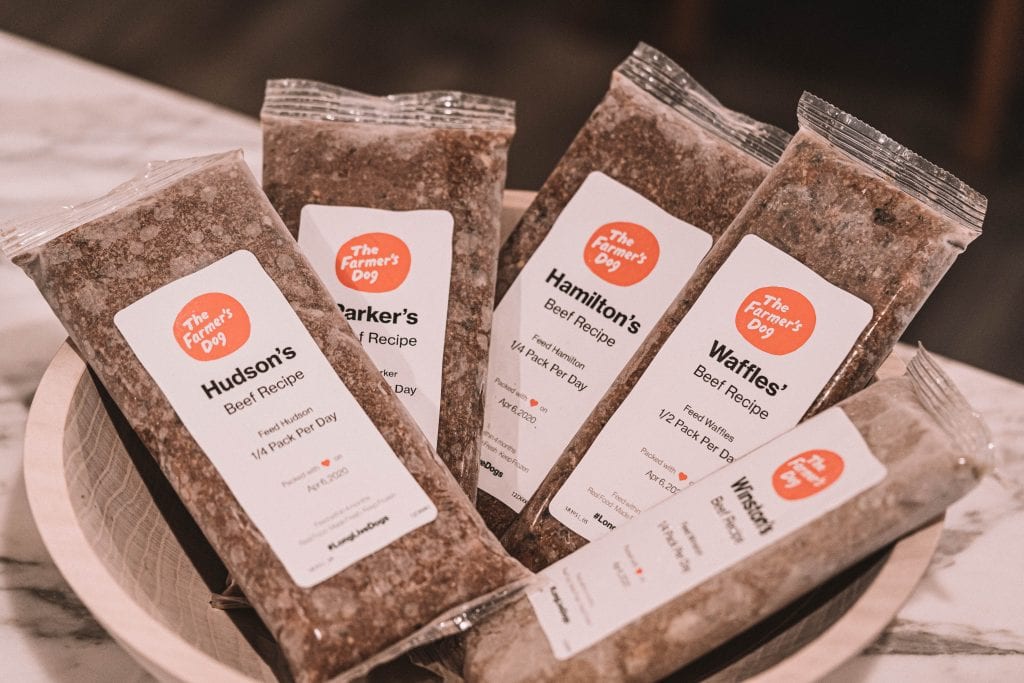 PROS-
Food packs arrive lightly frozen but very slim to make storing easy.
Meals are packaged with environment-friendly, biodegradable packaging.
They offer a pet questionnaire that takes into account your dog's age, breed, weight, and activity level to customize your food plan.
Meals are made with human-grade ingredients and gently cooked at 165 degrees to kill bacteria but not beneficial nutrients.
It contains their special vitamin blend including taurine, vitamin B12 supplement, zinc amino acid chelate, iron amino acid chelate, vitamin E supplement, copper amino acid chelate, thiamine mononitrate, sodium selenite, riboflavin supplement, potassium iodide, vitamin D3 supplement, and folic acid.
They have lower carb options if desired.
It contains Fish Oil to help give your pet a healthier coat.
Recipes are egg-free for those sensitive to eggs.
They have several different blends and recipes to choose from, view them here.
The website offers info on how to transition their diet over easily.
Preservative and filler-free, already cooked, just thaw and serve!
They offer a 50% OFF two week trial here.
For every new order, we get $20 back to Bunny's Buddies!
Farmer's Dog offers free shipping on their orders!
Each meal pack arrives with your dog's name on it, perfect for those with multiple pups that may order different blends.
Adjustable food blends, portion sizes, and delivery frequency.
It comes with containers to seal the extra food safely.
CONS-
This came frozen which means it needs more time to thaw out before serving but it very quickly thaws in warm water. However, it is in plastic so heating plastic does increase the risk of the plastic leaching into the food so thawing beforehand is best.
An entire day's worth of food is in one pack, so you have to portion it out.
Ingredients are not Organic.
They do not allow you to choose the delivery day since it depends on your location.
They do not have samples, only a two-week trial period.
The only subscription option is delivery every two weeks.
It does not offer cat food, sorry kitties!
It does not offer a discount for subscribing to a larger delivery.
PRICE- This is based on 1 of my dog's size, age, and serving him just two meals per day. I prefer 3 meals if possible.
Weekly- $70 for 14 meals.
2 Weeks- $140 for 28 meals.
$280 a month for one 65 pound dog is the average cost.