A big congrats on adopting your new pup; we are so thankful for all of the awesome people like you that have stepped up to give these precious angels a second shot at life. Because we know how hard it can be to get a new dog settled in, we wanted to have a blog with some helpful items to have ready for their arrival! We will continue to update this list as we think of needed items, but for now, here are our tried and tested absolute faves!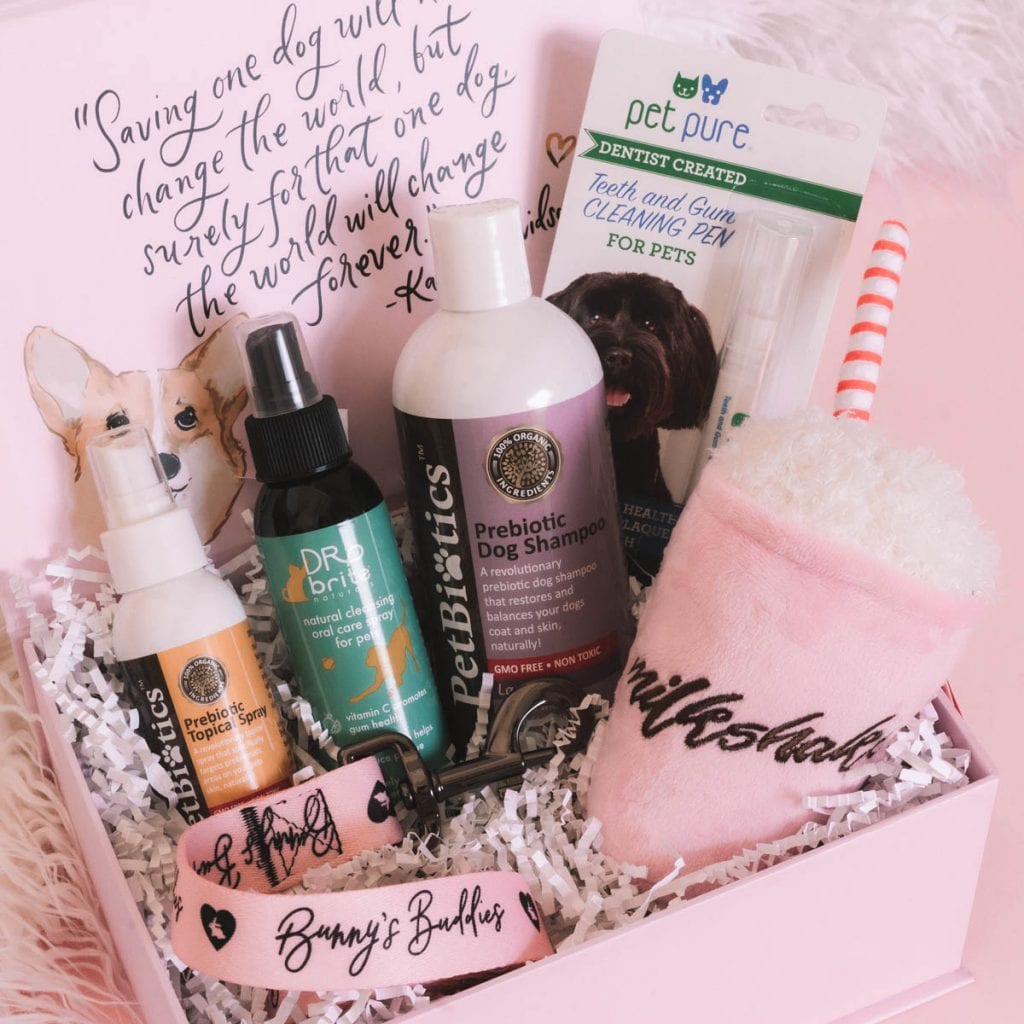 Prepping For Your New Pup!
Pet Insurance- This is probably the MOST important thing you can do for your pet as soon as he/she arrives. We have it on all 6 of our dogs, and it's something we have used repeatedly. We use Healthy Paws and they have been amazing. They cover 90% of all issues, and they have been hassle-free every single time. There are various monthly payment and coverage options, so you can select which works best for you. They also cover hereditary issues, hip dysplasia, all surgeries, meds, blood tests, etc… it's awesome! Their plans do not cover pre-existing conditions, the veterinarian exam fee, spay/neuter procedures, or preventative care.
Doggy Camera- You don't want to leave your new pup alone any time soon, but when you feel it's time to start trying to leave for short periods, you will want a quality dog camera to watch your pup on. This allows you to see how well they handle you leaving, even if it's just out to check the mail. Are they anxious or destructive? Then you know it's not time to leave them alone yet, and you can work on their separation anxiety a bit more. Now that my dogs are more settled in, I love having this camera for peace of mind if we run a quick errand, I can easily check in to make sure no one is up to no good!
Pet Shampoo- As you know, I love using only clean and natural products for myself, and my pets are no exception; only the best for them too! In my Organic Bunny store, I carry my personal favorite Organic pet shampoo by PetBiotics! It is very clean, and it's amazing for dogs with skin issues like dermatitis, rashes, hot spots, mange, shedding, ringworm, dandruff, impetigo, yeast infections, itchy skin, and more! They also make a topical spray for those with more serious conditions, it works amazingly.
Non-Toxic Pet Bed- The Griffith Dog Bed is GREENGUARD Gold Certified for toxicity and low emissions. That means it has been scientifically tested in environmental chambers to meet some of the world's most rigorous third-party emissions standards for prolonged chemical exposure and pollutants, such as volatile organic compounds (VOCs), formaldehyde, and phthalates. Better still, it will not pollute your home's indoor air quality with off-gassing. Few dog beds meet this gold standard, our dogs love theirs too!
Paw Cleanser- Did you know we made our very own super clean yet effective Paw Cleanser? Besides keeping your pet's paws clean and odor-free, this gentle cleansing spray is also amazing for soothing itchy skin and calming wounds or irritations. We use this stuff on literally everything, their ears, any cuts or burns, dirty paws, smelly carpets, anywhere that needs deodorizing & more! This is a must-have item for ALL pet owners as it removes the dirt, bacteria, and viruses from their paws, all while being totally non-toxic! We also have a few paw salves we love, too you can view here!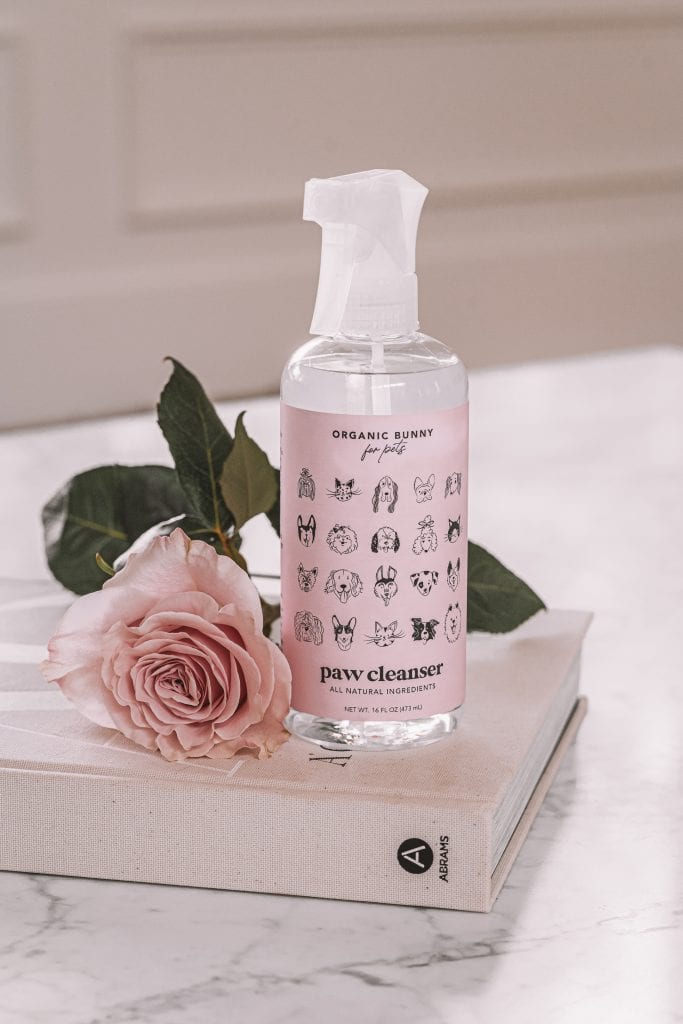 Dental Care- Because many of these dogs lack proper oral hygiene, getting them on a nice dental routine is important! We use the Radius Organic canine toothpaste and dental kits. Our rescue has severe gingivitis, so we will have to make him a dentist appointment for a deep cleaning soon. The above products are more so for preventive care and not for fixing any major damage.
Bunny's Buddies Tote Bag- Featuring all 5 of our main pickup airports, this custom tote bag is the perfect way to pack your airport supplies while repping your favorite rescue! We also just made a new pink design too!
Leash and Collars- Want to get your pet the cutest leashes and collars? We carry some really amazing, safer options made with materials like Organic Cotton & Natural dyes! Click here to see our faves. 
Harnesses- The collar you use is up for your discretion as some people frown upon both choke collars and harnesses alike. We use a soft collar, harness, and leash. Yes, harnesses do encourage pulling, but when your dog walks, its arousal is so high that he will choke himself and not care while using a choke collar. We use the Eat Play Wag harnesses, as they fit above the shoulders, unlike some harnesses that droop too low and disrupt their natural stride, leading to health problems later in life.
Pet Bandanas- Did you see that we came out with our very own bandana collection? They are super adorable, and proceeds go right back into our mission here. Pick out a few for your new rescue here! My dogs all wear size Large.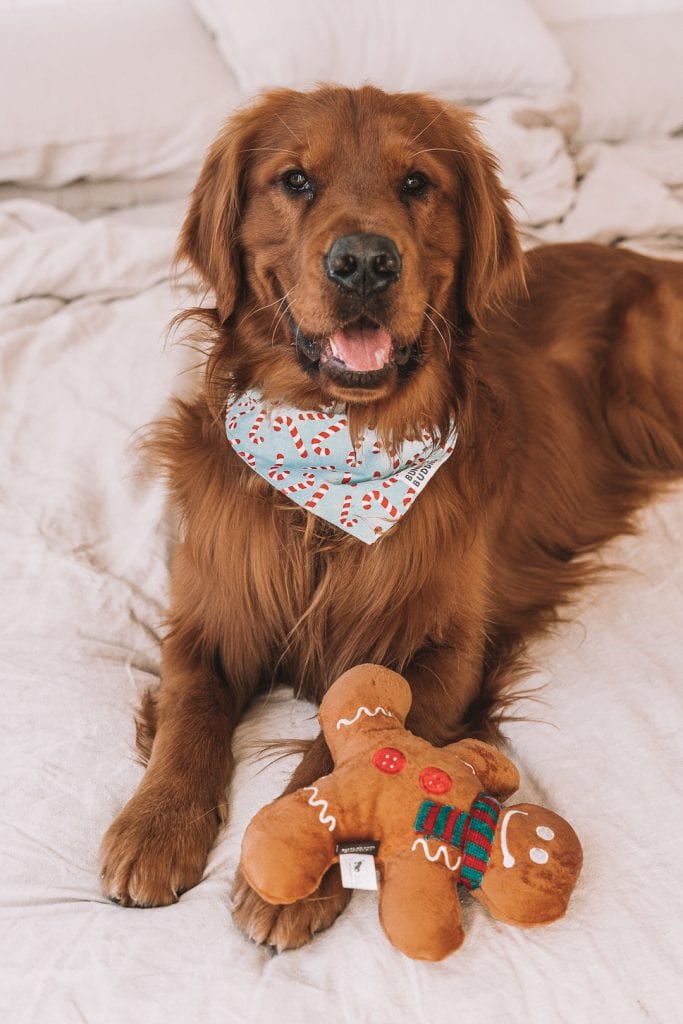 Flea & Tick Collars- We use these 100% Natural Amber Resign collars to repel fleas and ticks, and yes, they work, plus, they're so pretty. You will want to wait for your pup to arrive, as measurements are critical to its performance.
Flea & Tick Sprays- Finding a truly clean yet effective flea and tick spray was a huge challenge; however, after over one year of searching, we finally found one we love and approve of by Pure & Natural! They have two options to choose from a spray and then wipes! This makes wiping your pet's paws down before a walk a breeze.
Training Pouch- All dogs need training and then continued training over the years. Having a training pouch is key as it allows you to be hands-free while working with your pet. I love this PLAY pouch as it has various pockets for personal items and treats while being super lightweight, adjustable, and with a squeaker to get their attention! Be sure to fill your pouch with only clean treats too! Our top picks are these options here.
Probiotics- Great for dogs, cats & horses; I love the Adored Beast's Love Bugs as it is a Pre & Probiotic and super easy to add to their food! This is made to support your pet's resistance to fungal overgrowth, soothe allergies, prevent tooth decay, support digestion, increase food absorption, and more which is really important to support your new dog's healing and best overall health.
Food– While we make our dog food homemade from scratch, for those who need a quicker and easier option that is still healthy, we like the Farmer's Dog fresh meals. I find that many dogs have allergies to Chicken, so I avoid it with all of my dogs. Take 50% OFF The Farmer's Dog here. We also really love The Honest Kitchen options; code BUNNYSBUDDIES25 will also save you from their site too.
Meat Deliveries- For those making their food at home, we love using the Greensbury delivery as it has the lowest prices I have found, all while still being Organic, Wild, or Grass-fed. Use code BUNNYSBUDDIES to get a discount on our favorite online meat delivery company here.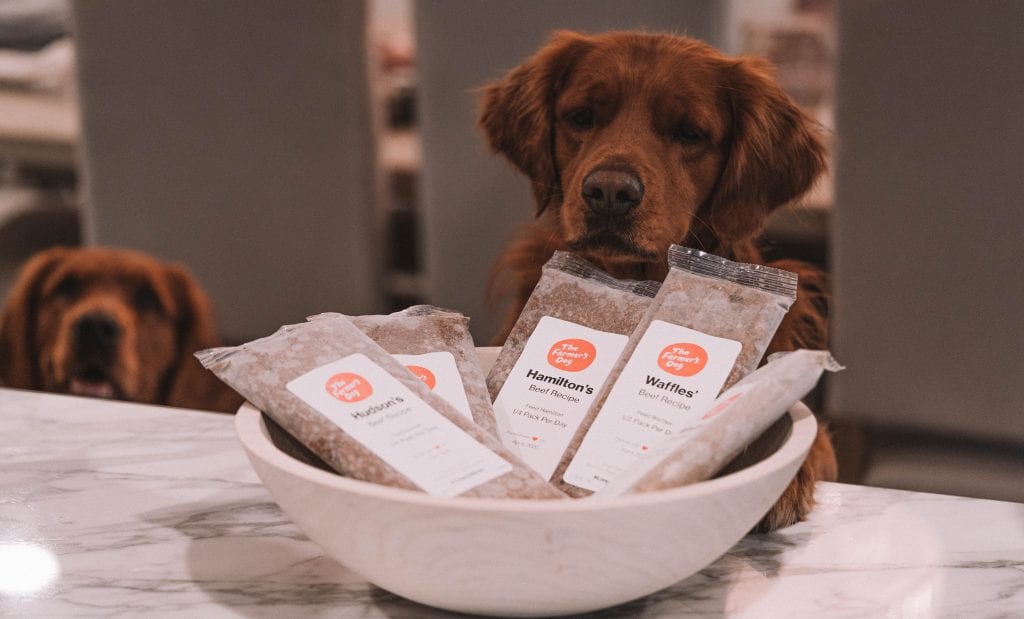 CBD Oil- There are many CBD options on the market, but the quality and method used to extract it are critical! After researching for months, we went with the NuLeaf Organic CBD. We give it to our pups with a spoonful of Organic Peanut Butter!
Cleaning Supplies- Because our pets usually hang out and rest on our floors, using a non-toxic cleaning solution is very important as we don't want them breathing in any disrupting fragrances or licking toxins. My favorite brand is Branch Basics and code ORGANICBUNNY saves you $$.
Wellness Scan- Want to know your pup's food or environmental stressors? If so, we love this Wellness Scan to see what is causing your pet's health issues. This test is amazing for new rescues, so you can really get them feeling their best!
Play Pens & Crates- This large playpen is a nice option if you have other dogs and want to be able to keep them apart for a bit to adjust. We prefer this to a crate as our dogs can have some trauma with crates. For those that are looking for a crate, I do not suggest the ones on Amazon as they are all pretty cheaply made. For that reason, we just got a REALLY nice one from Impact Dog Crates. These crates are really awesome for dogs with anxiety too! We got Waffles the Collapsible Dog Crate in the white color, I love that it matches our home and still looks really pretty. They are investment pieces so code: BUNNYSBUDDIES will save you a little at checkout.
Instagrammable Toys- Nothing is cuter than snapping a pic of your new pup with a plush passport or bottle of bubbly! We also have an interactive toy we love too! Check out cute toys here.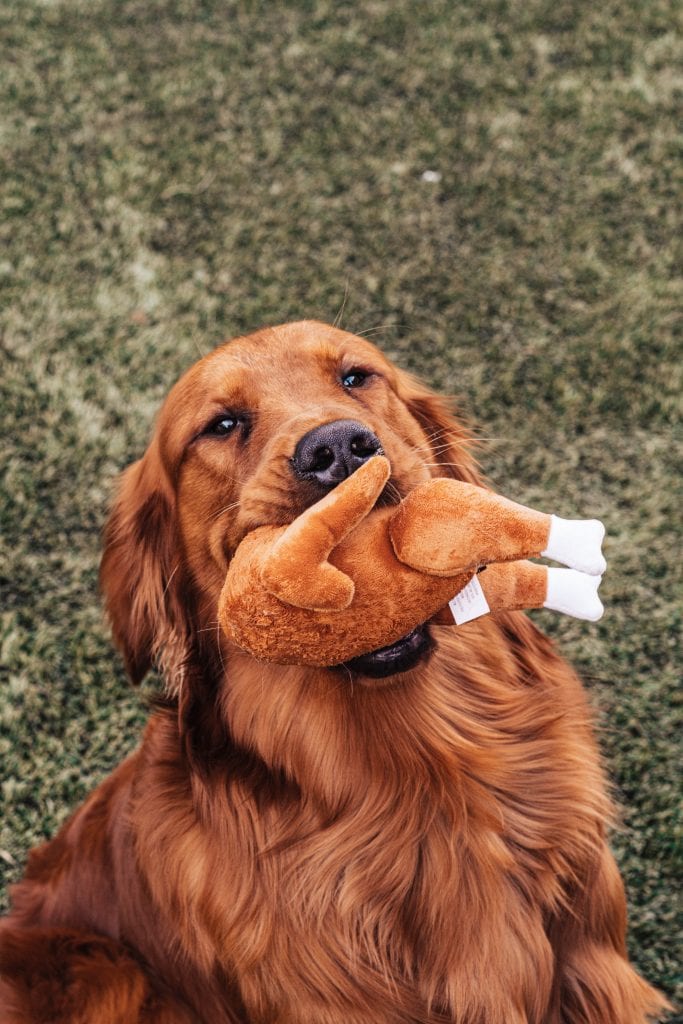 Dog Bowls- Sadly, many rescue dogs have been kept from food throughout their life, which results in them inhaling their food quickly, leaving them at risk for bloat, which is deadly. We have been using these Stainless Steel slow feeder bowls and loving them! Code BUNNYSBUDDIES saves too! For normal bowls we love, click here.
Water Filter- Because I do not like giving my pups fluoride and heavy metal-infested tap water, we use a water filter for all of their drinking water! Click here for my faves, codes included!
Dog Chews– Dogs LOVE to chew, especially with nerves running wild in their new environment, so having chewies on deck is key! You never want to feed your dog rawhide as it is a major choking hazard; however, these Yak Milk chews are a great alternative as they are made from Yak milk instead! These give me about an hour or more of silent time which is unheard of for heavy chewers! I would still supervise your dogs while eating these since they can still have pieces break off; you want to make sure they are not swallowing this, or anything, whole.
Durable Dog Toys- Many rescue dogs have anxiety that they can tend to take out on their toys, so finding this brand was a lifesaver. These not only float in our pool, but they have yet to be dismembered! We love the West Paw brand for those MAX chewers, these do NOT destroy what-so-ever. Hudson chews 24/7 and this dog bone toy has yet to be destroyed after years and years of chewing.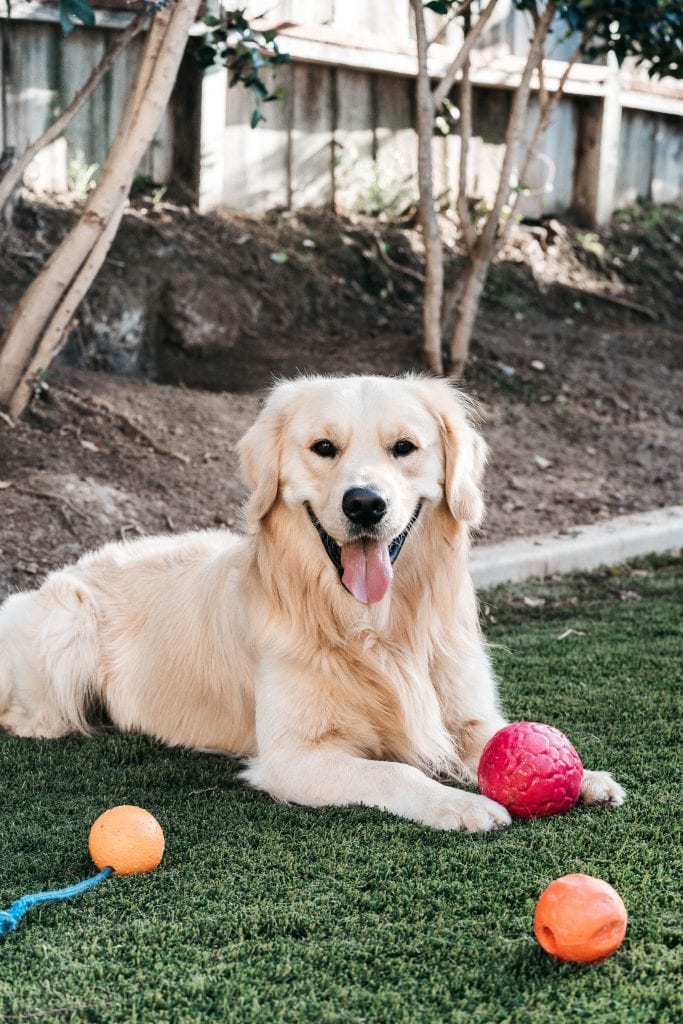 Baby Gates- When bringing any new dog into the home, you must create safezones for each dog to have safe areas of their own while everyone adjusts to the change. We have personally been using these baby gates, and let me tell you, they are a lifesaver. They do not require being screwed into the door, they are super tall, super easy to install, customizable, and come with a door for easy in and out. These are also awesome if you want to leave your dog in your bedroom or a sectioned off the room while at work or away to keep them confined without shutting the door. Get a few, you will want the house to be very secure!
Immune Boosting Supplements– After we took our rescue to the holistic vet, she suggested getting all of our dogs on a nutritional supplement to help their immune system recover after all they may have endured. Our dog Hamilton had a sneeze once he arrived; after a week, he is now sneeze-free. I am not saying these cured him; however, whatever was going on is now gone thanks to time and, hopefully, a good immune-boosting product. One of our favorites is this Glacier Peak Daily Defense powder; simply add it to their food once per day.
Detox Supplements- Looking to help your pet detox after a round of vaccines? If so, this Anti-Vaccinosis is designed to be used after vaccinosis to assist in the removal of associated vaccine side effects without removing any of the vaccine benefits. Made with a homeopathic preparation of Thuja and Silicea, this helps to remove toxins or negative side effects from a recently vaccinated animal. This can be used on both cats and dogs and should be done once in your pet's lifetime, regardless of how long ago they had vaccines.
Fish Oil– Nordic Naturals Omega-3 supplements are an excellent source of the important omega-3 fatty acids EPA and DHA that your pooch needs. EPA and DHA help support skin and coat health, joint health, heart health, immune system health, cellular health, and brain and eye development and maintenance. I love this brand because they are Wild Caught and Sustainably sourced. These are really awesome for healthy skin, soothing itchy skin, a healthy coat, and more.
Ear Cleaner or Itch Relief- Is your furry friend feeling itchy? If so, this combination of apple cider vinegar & soothing herbs is fantastic for soothing itchy skin & for preventing skin infections caused by topical yeast. Simply spray your Yeasty Beast on skin folds or a cotton pad for ears. For a basic ear cleanser you can use on any dog, we love both the ear cleansing kit and wash by Pure & Natural!
Bunny's Buddies Beanies, Stickers & Magnets- Show off your rescue pride with these beyond adorable stickers that feature some of our most popular rescue pups! We also have the coziest beanies of your life, cute baseball hats and yes, a portion of the sale goes back to the pups.