Did you know that air fresheners, conventional candles, deodorizers, and room sprays are made from a combination of over 3,000 lab-made, synthetic ingredients, designed to mask the odor, all while putting not only us but our pets at risk for allergic reactions, hormone disruptions and more?
Because most air fresheners these days are super toxic, we wanted to have a safer option for those of you looking for a better way to keep your home smelling oh-so-fresh and clean but with you and your pet's health in mind!
Like most people into a more natural way of life, we are big fans of diffusing essential oils as a great air freshener alternative especially since they often have some added benefits to our moods too! But what about our furry family members? Is diffusing these oils around them safe?
Best Essential Oils For Pets
To put it simply, there is a lot of conflicting and confusing information out there! EO's can be used safely around your pets as long as a few extra precautions are taken. Here are a few tips for diffusing essential oils safely around your furry friends.
To start off quality is key! It is extremely important to use a pure, organic, therapeutic grade oil that does not contain any additives, synthetics, or artificial ingredients. The more information you can find out about the company that makes the oil you use the better! Diluting them is also extremely important as animals have a much better sense of smell than we do. Scents that we may enjoy could be overwhelming or irritating for our beloved pets.
Best for Dogs- For the essential oils that we love and that are ok to diffuse around dogs, see the following! Please note, these are for dogs only.
Best For Cats- For cats and because they are more sensitive, the only ones that are ok to diffuse are Campo's Peppermint, Lavender, Sleep & Cedarwood and Plant Therapy's Blue Tansy, Lavender & Relax Synergy.
For cats, pine and citrus oils should be totally avoided, in addition to others like tea tree and clove because cats cannot metabolize them, and they are therefore toxic.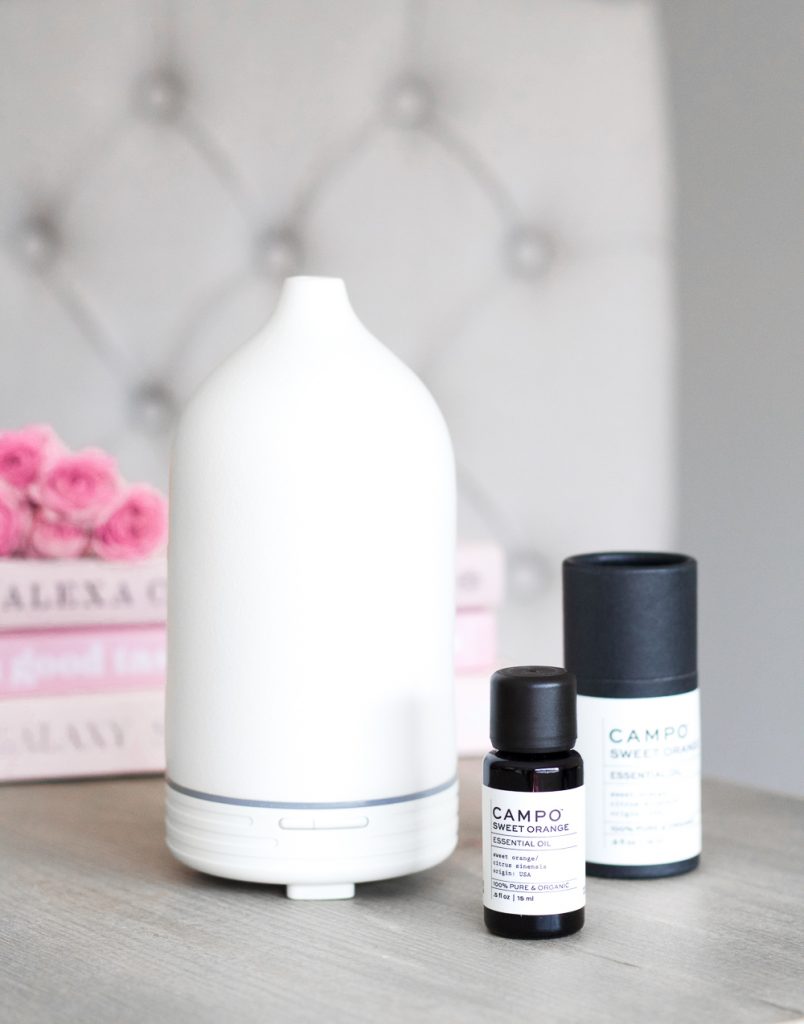 Worst Essential Oils For Pets
Sadly, there are many EOs you should not use with pets in the house. While it may be ok in moderate amounts, we like to side with caution! Though this is not an exhaustive list, below are a few of the expert's agreed upon essential oils to avoid diffusing in the presence of animals.
You may notice some of these ingredients in things like your doggy shampoo or balms but have no fear, when properly diluted, in tiny amounts, it is very different than diffusing a pure oil directly into your home. We simply suggest NOT diffusing these oils, in pure form, in your home.
Tea Tree
Anise
Nutmeg
Pine
Lemon
Sage
Wintergreen
Clove
Cinnamon
Fennel
Juniper
Basil
Amyris
Camphor
Frankincense
Palo Santo
Eucalyptus- Avoid for cats and if the pet has a history of seizures.
Rosemary- Avoid for cats and if the pet has a history of seizures.
Worst for Cats- Basil, Citrus Oils (Bergamot, Grapefruit, Lemon, Lime, Orange, Tangerine), Pine Oils like Spruce or Juniper, Birch, Eucalyptus, Cinnamon, Camphor, Clove, Dill, Fennel, Tea Tree, Oregano, Thyme, Rosemary, Spearmint, and Wintergreen.
How to Start Diffusing
Whenever you're adding something new to your pet's environment, it's important to start slow & steady, keeping a very close eye on how they are responding to the addition. We recommend the following to ensure a smooth introduction! Our favorite diffuser is the Ceramic one we carry in the Organic Bunny store.
Use only a small amount (1-5 drops max diluted with water).
Diffuse for a short period of time (30-60 mins).
Ensure your space is well ventilated with windows open.
Always allow your pet the ability to enter & exit the room easily.
Take note of how your pet responds at all times!
A common reaction when a pet is not enjoying a particular oil is that they will probably leave the room, and if you notice your pet resisting an aroma, discontinue use and move them to a well-ventilated space right away. If their behavior or health changes in any noticeable or concerning way, it would be best to get them to a vet as soon as possible. Some essential oils can also interact with any prescribed medication so it's best to discuss which are safe with your vet if applicable.
While there are a lot of "rules" to diffusing if done carefully there should be no reason you and your furry family members can't enjoy and benefit from the above essential oils!
A special note regarding cats-
Some essential oils can cause liver and kidney toxicity in cats especially. Cats use a different system in their liver to detoxify chemical comments of essential oils and are known to take longer to metabolize essential oils which contain polyphenol compounds. These oils are referred to as "hot" oils and include cinnamon, oregano, clove, wintergreen, thyme and birch, and should be avoided in cats. Cats' livers are also unable to detoxify the terpenes contained in citrus and pine based essential oils – lemon, orange, grapefruit, spruce, fir, pine… to name a few. Additionally, you should be careful diffusing tea tree (melaleuca) oil.
However, you could consider diffusing mild citrus oils as long as you put your kitty/kitties in another room while essential oils are diffusing. Be sure to wait until the scent of the diffused oils has faded…. just case some of the chemicals are lingering in the air (if you can smell them, then they are still there).
While there are a lot of "rules" to diffusing if done carefully there should be no reason you and your furry family members can't enjoy and benefit from the above essential oils!