One of my favorite things ever to do is to groom my dogs. Some people rather have others do it, which sure, that is nice too hehe, but there is something so enjoyable about pampering our pooches! I just love brushing them and cleaning them to ensure they feel fresh and clean as often as possible! Another issue is, the products most groomers use are totally irritating and usually loaded with harsh preservatives and perfumes. I personally will not allow groomer's products on my dogs because they are simply not clean for them or me.
Groomer Hack- You can ask your groomer to not use any of their products and only use yours which can work too! We have done that before. So, keep reading below for our tried and true, must-have non-toxic products to ensure your pooch has the best spa day pawsible!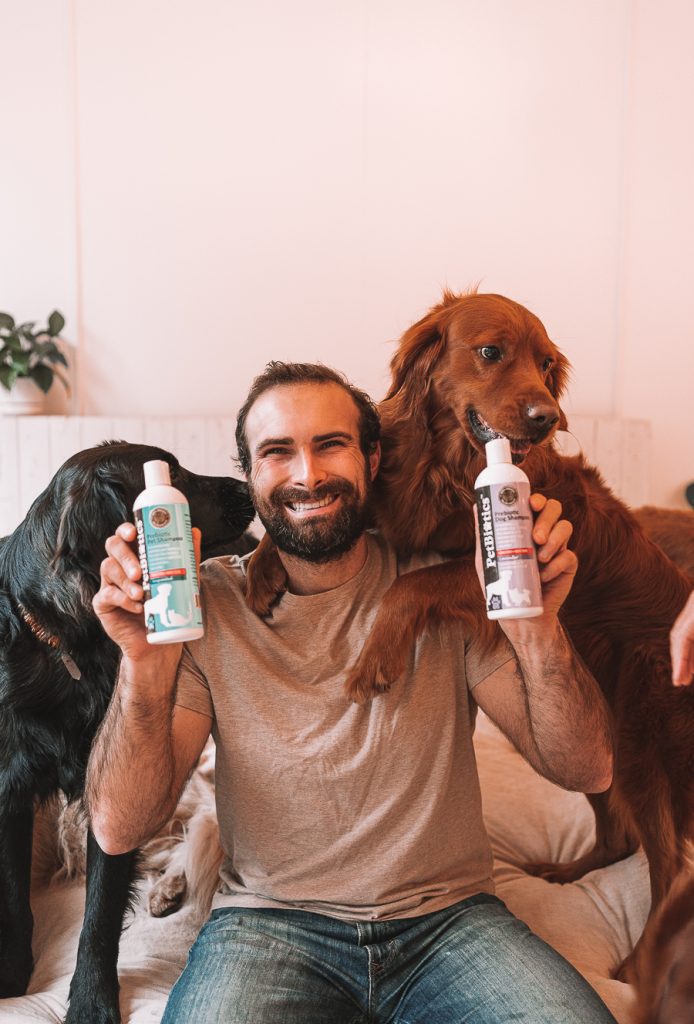 Normal Brush- Before we wash each pup, we always start with brushing before. That seems like a waste of time but I find brushing them before removes a ton of dead fur that will just end up in your drain or grass. If you brush beforehand, you can remove a ton of fur and debris pre-shower! Our favorite brush to use for everyday brushing on all coats, is this brush here.
Deshedding Brush- After we brush with the above brush, we always follow up with this de-shedding tool. This tool is the BEST! This gets deep into the fur to remove dander and dead fur without cutting or ruining their coat, unlike other de-shedding tools. I softly stroke this through their fur and remove even MORE dead hair and dander to keep our drains as clear as possible. We also just got another brush in with softer, silicone bristles that make removing dead fur a breeze and your pets will LOVE that it feels like a massage! You can view the new therapy brush here.
Ear Cleanser- Once your pup is brushed, and before we bathe them, we like to clean their ears out really well to avoid any wet residue left over on their ears after a bath. That way, any yucky that comes out, will be rinsed off with their bath. Our favorite way to keep our pup's ears clean is to use this Ear Cleansing Kit! This comes with a super clean serum and the perfect long q-tips to get into their ears carefully. You can also do their Ear Wash too for an easy, everyday cleaning option!
Pet Shampoo- Once the pup is brushed and de-shedded, it's bath time. We ONLY use one brand of shampoo, and I will not consider any other as this one is truly the only one I have ever found that is not only super clean and 100% Organic but actually beneficial for their skin as well. This shampoo is made with hydrating aloe and moisturizing coconut oil so it is so great for their skin and coat. This also will remove bad bacteria while encouraging good bacteria grow! This is a must-have product for us! We simply wet them, apply shampoo, scrub deep down into their skin, let it sit for 1-3 minutes, then rinse. No conditioner is needed; your pet will SHINE! View both scents here.
Hot Spots or Itch- If your dog is suffering from itch or irritation, I highly suggest applying this spray after they are towel dried before you blow-dry. Pat the area dry with a towel and then apply to help ramp up their good bacteria and natural healing process. This spray is so soothing and will give them such relief!
Pet Blow Dryer- After bath time, we dry them off with an Organic Bear towel, because why not!? We then use an industrial blowdryer because well, we have 6 dogs and we need that power. Blow dryers are ok but they take forever, so we love, love our pet blow dryer. We actually use this Dog Grooming Blower every single day to check for fleas and ticks too as the power blows the hair so you can see directly at their skin. This is a must-have tool for your at-home grooming ventures!
Paw Cleanser- For those with extra dirty, dry, or cracked paws, you really want to have our Paw Cleanser at home, ready to use each day. This stuff is liquid gold, keeping your pet's paws in prime condition thanks to the HOCl which is naturally such a healing product to apply to their paws, all while keeping them super clean. This is a must for after walks or trips to the doggy park to keep all those doggy germs away.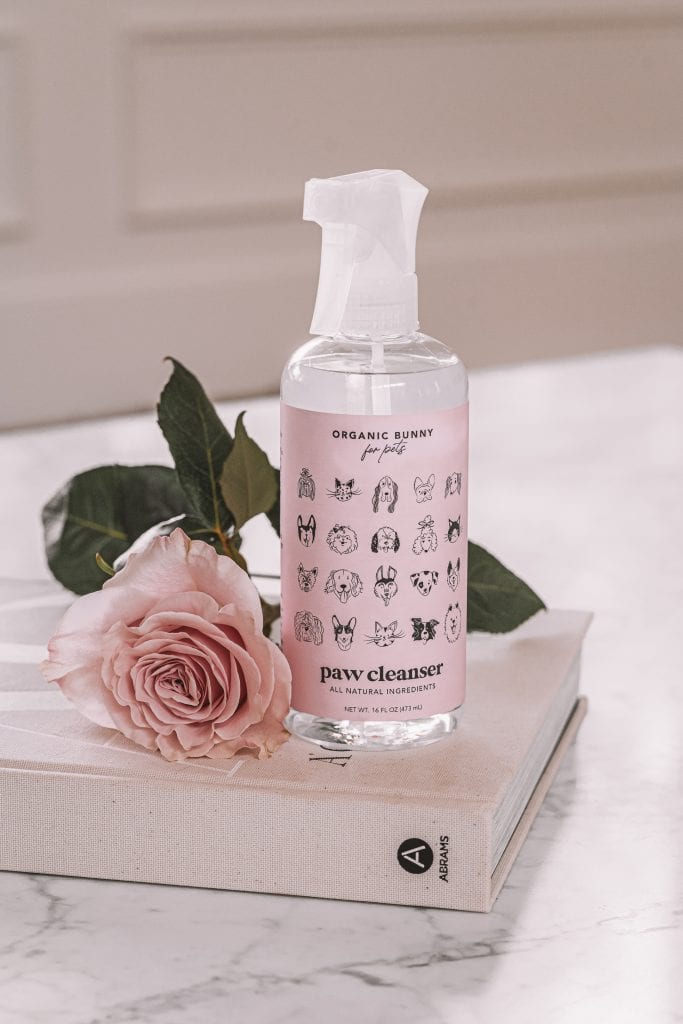 Paw + Nose Balm- Once your pet's paws are super clean from their bath or our Paw Cleanser, you can then apply this Moisturizing Balm to the bottoms to allow them to become oh-so-nourished and moisturized! This balm is so awesome as it is made from Organic ingredients and as always, NO perfumes! This can also go on their dry noses too, boop!
Dental Care- If you are feeling up for it, you can also give your pup a dental day alongside their bath too! I carry the best, Organic doggy dental kits or a spray too for those not open to brushing. It's really important to keep your pet's oral care impeccable as it links directly to their gut! If your dog will not tolerate brushing or the spray, allowing them to chew an Organic, grass-fed, raw bone marrow a few times a week should also do the trick!
Doggy Bandana- Once your pup is oh so fresh and oh so clean, finish their spa day off with a Bunny's Buddies approved doggy treats for their superb patience and a bandana, then snap a pic of your fresh new bestie!