One of the hardest things about owning a dog in a condo or apartment is the fact that you don't have easy access to grass for them to potty on! This, in turn, leaves pet owners with just two options for taking your dog potty, quickly, and that is either using pee pads or artificial grass pieces on your patio.
Both are not-so-great right!?
Especially for those of us wanting to reduce the amount of plastic we use, as often as possible. Both options are sadly made of plastic and potty pads especially are adding to our ever-growing problem of single-use plastic waste. The artificial grass pads come with their own issues as they can be really gross to clean out and feel very unnatural for dogs. Dogs typically don't like to go potty on pads or on artificial grass because of the way it feels to them.
So, what's a pet owner to do!?
I was so excited to learn that they now have real grass pads but that are additionally, non-toxic! Doggie Lawn is a company that grows grass through the hydroponic process so it doesn't need any soil and, it is pesticide and fertilizer-free, so you don't have to worry about any toxic chemicals getting absorbed by your dog's paws. This is a great, sustainable option for those that live in apartments or have dogs that are not a fan of pottying in the cold outdoors.
Since these patches are made from real grass, they will also naturally eliminate urine odor which allows for better indoor use, however, we have not tested that out yet to confirm. Because these are designed to be used indoors, they are made to prevent leaking thanks to the root matting underneath the lawn patch.
How to Sign Up-
Besides just offering this super cool service, Doggy Lawn is also a subscription model which means they will send you a new one when ready, typically in 2-4 weeks! What is also cool is these patches can be placed in your green trash bins OR you can compost them to cut down on waste and then, switch it out for the new one how cool is that? Their ordering process also makes it really easy to pick the best size option for your dog, as well as helps you choose the frequency of the subscription.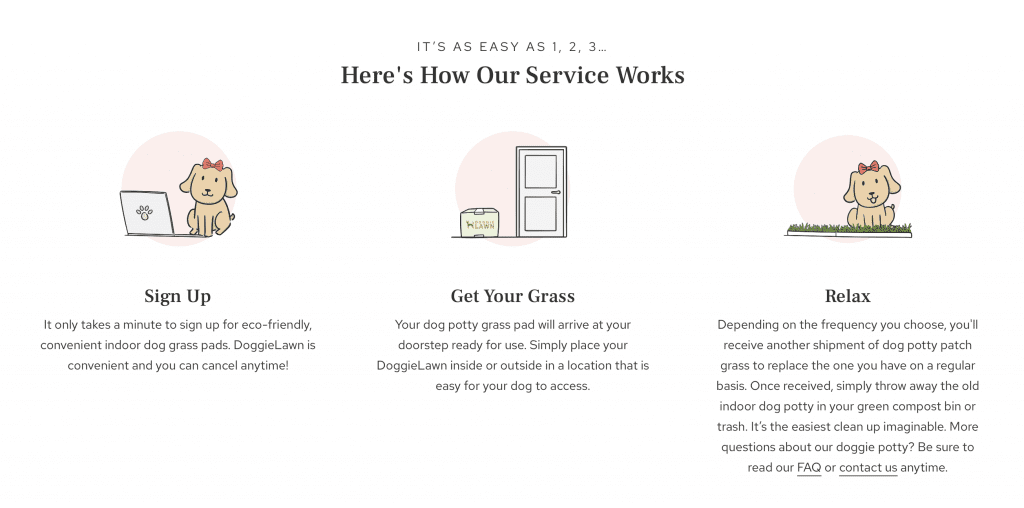 It's one of my favorite alternatives for those that typically use doggie pads or artificial grass. What better gift is there for your pup than some non-toxic, fluffy grass they can use and love!? For more FAQs on this service click here.
COUPON CODE: Right now they have a pop up discount for first-time users when you head to their website here!